July was a GOOOOOD month for books. Great, in fact. Check out what I was reading…
Wilde Like Me / Louise Pentland
Meet Robin Wilde! You'll make a friend for life and she'll take you on a journey you'll never forget …Single mum Robin Wilde adores her six-year-old daughter and loves her job as a make up artist's assistant. She has a wonderful best friend and an auntie who is bonkers, yes, but loves her to the moon and back. But Robin has a secret. Behind the mask she carefully applies every day, things just feel … grey. And lonely. She struggles to fit in with the school mum crew. Online dating is totally despair-inducing, and she worries every day about raising her little girl with self-confidence, courage and joy.What Robin longs for is someone (over the age of six) to share with – someone who's always on her team. After 4 years (2 months, and 15 days!) of single-mum-dom, it's time for Robin Wilde to Change. Her. Life. Exciting new opportunities are about to come Robin's way … Perhaps a man, perhaps the chance of a lifetime …What will Robin do with the possibilities she creates for herself? And what potential will she unlock if she takes the leap?
Ahh, I had pre-ordered this and was so so excited when it arrived! I absolutely love Louise and just knew it would be a great read. It was so so funny at parts and I laughed out loud quite a few times!
My Not So Perfect Life / Sophie Kinsella
Katie Brenner has the perfect life: a flat in London, a glamorous job, and a super-cool Instagram feed. Ok, so the real truth is that she rents a tiny room with no space for a wardrobe, has a hideous commute to a lowly admin job, and the life she shares on Instagram isn't really hers. But one day her dreams are bound to come true, aren't they? Until her not-so perfect life comes crashing down when her mega-successful boss Demeter gives her the sack. All Katie's hopes are shattered. She has to move home to Somerset, where she helps her dad with his new glamping business. Then Demeter and her family book in for a holiday, and Katie sees her chance. But should she get revenge on the woman who ruined her dreams? Or try to get her job back? Does Demeter – the woman with everything – have such an idyllic life herself? Maybe they have more in common than it seems. And what's wrong with not-so-perfect, anyway?
This was hilarious from start to finish! I absolutely loved Katie. She's one of the loveliest yet funny and straight talking characters I've ever read about. I love the plot and the ending and pretty much everything about the book. Although I was still so unsure of Demeter!
Out of Office Girl / Nicola Doherty
Alice Roberts is having a rubbish summer. She's terrified of her boss, her career is stalling, and she's just been dumped – by text message. But things are about to change… When her boss Olivia is taken ill, Alice is sent on the work trip of a lifetime: to a villa in Sicily, to edit the autobiography of Hollywood bad boy Luther Carson. But it's not all yachts, nightclubs and Camparis. Luther's arrogant agent Sam wants him to ditch the book. Luther himself is gorgeous, charming and impossible to read. There only seems to be one way to get his attention, and it's not one her boss would approve of. Alice is out of the office, and into deep trouble…
A good book. Very easy read. Not a life changing book or anything but a really simple feel good read.
Behind Closed Doors / BA Paris
Everyone knows a couple like Jack and Grace. He has looks and wealth, she has charm and elegance. You might not want to like them, but you do.
You'd like to get to know Grace better.
But it's difficult, because you realise Jack and Grace are never apart.
Some might call this true love. Others might ask why Grace never answers the phone. Or how she can never meet for coffee, even though she doesn't work. How she can cook such elaborate meals but remain so slim. And why there are bars on one of the bedroom windows. Sometimes, the perfect marriage is the perfect lie.
Ohhhh, I loved this read. If you love a good suspense book then this is the one.
The A to Z of Everything / Debbie Johnson
P is for Paris where it all began. J is for Jealousy where it all came undone. But the most important letter is F. F is for Forgiveness, the hardest of all. Sisters Poppy and Rose used to be as close as two sisters could be, but it's been over a decade since they last spoke. Until they both receive a call that tells them their mother has gone – without ever having the chance to see her daughters reunited. Andrea, though, wasn't the kind of woman to let a little thing like death stand in the way of her plans. Knowing her daughters better than they know themselves, she has left behind one very special last gift – the A-Z of Everything.
This was such a heartbreaking read. I related so much to Rose at the beginning but ended up loving Poppy just as much! Really conveys what grief is really like!
Finding Audrey / Sophie Kinsella
Audrey can't leave the house. she can't even take off her dark glasses inside the house.
Then her brother's friend Linus stumbles into her life. With his friendly, orange-slice smile and his funny notes, he starts to entice Audrey out again – well, Starbucks is a start.And with Linus at her side, Audrey feels like she can do the things she'd thought were too scary. Suddenly, finding her way back to the real world seems achievable.
I think this story is an excellent representation of what it's like living with social anxiety. I think it is a great way to educate young adults about anxiety and mental health in general. I was gutted that we didn't get to find out what actually happened to Audrey at school.
A Summer Fling / Milly Johnson
When dynamic, power-dressing Christie blows in like a warm wind to take over their department, five very different women find themselves thrown together at work. But none of them could have predicted the fierce bond of friendship that her leadership would inspire…Anna, 39, is reeling from the loss of her fiance, who ran off with a much younger woman. Her pride in tatters, these days Anna finds it difficult to leave the house. So when a handsome, mysterious stranger takes an interest in her, she's not sure whether she can learn to trust again? Then there's Grace, in her fifties, trapped in a loveless marriage with a man she married because, unable to have children of her own, she fell in love with his motherless brood. Grace worries that Dawn is about to make the same mistake: orphaned as a child, engaged to love-rat Calum, is Dawn more interested in the security that comes with his tight-knit, boisterous family? When a sexy, footloose rock singer catches her eye, will Dawn have the courage to follow her heart? At 28, Raychel is the youngest member of their little gang. And with a loving husband, Ben, and a cosy little nest for two, she would seem to be the happiest. But what dark secrets are lurking behind this perfect facade, that make sweet, pretty Raychel so guarded and unwilling to open up? Under Christie's warm hand, the girls soon realise they have some difficult choices to make. Indeed, none of them quite realised how much they needed the sense of fun, laughter, and loyalty that abounds when five women become friends. It's one for all, and all for one!
As you know by now, Milly Johnson is my fave author! And I absolutely love when she has more than one main character. I loved all the girls stories in this novel.The characters are all so realistic and you go through ever emotion with them!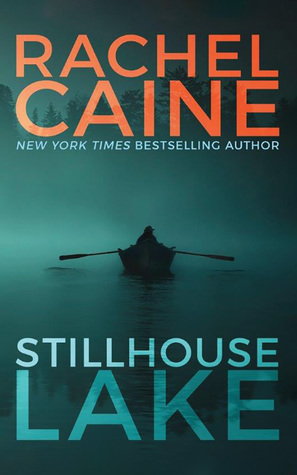 Stillhouse Lake / Rachel Caine
Gina Royal is the definition of average—a shy Midwestern housewife with a happy marriage and two adorable children. But when a car accident reveals her husband's secret life as a serial killer, she must remake herself as Gwen Proctor—the ultimate warrior mom. With her ex now in prison, Gwen has finally found refuge in a new home on remote Stillhouse Lake. Though still the target of stalkers and Internet trolls who think she had something to do with her husband's crimes, Gwen dares to think her kids can finally grow up in peace. But just when she's starting to feel at ease in her new identity, a body turns up in the lake—and threatening letters start arriving from an all-too-familiar address. Gwen Proctor must keep friends close and enemies at bay to avoid being exposed—or watch her kids fall victim to a killer who takes pleasure in tormenting her. One thing is certain: she's learned how to fight evil. And she'll never stop.
I was quite disappointed in this book to be honest. I felt like the book was so slow until the final 100 pages. I never give up on books but almost did with this one but I am glad I didn't as the ending was great. I just wished more had happened earlier on in the book.
Have you got any recommendations for me? Let me know!
Much love,