Books books books. My favourite form of self care! Here's what I read in August.
On the Other Side / Carrie Hope Fletcher
Evie Snow is eighty-two when she quietly passes away in her sleep, surrounded by her children and grandchildren. It's the way most people wish to leave the world but when Evie reaches the door of her own private heaven, she finds that she's become her twenty-seven-year-old self and the door won't open. Evie's soul must be light enough to pass through so she needs to get rid of whatever is making her soul heavy. For Evie, this means unburdening herself of the three secrets that have weighed her down for over fifty years, so she must find a way to reveal them before it's too late. As Evie begins the journey of a lifetime, she learns more about life and love than she ever thought possible, and somehow , some way, she may also find her way back to her long lost love . . .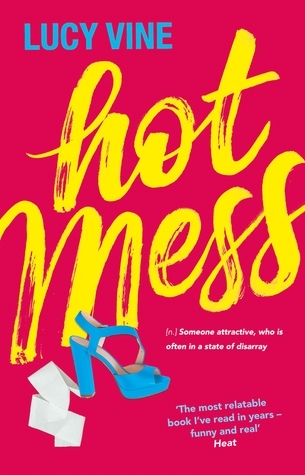 Hot Mess / Lucy Vine
Ellie Knight is just like you. Her life isn't turning out the way she thought it would. Some people might say she's a hot mess but then who really has their s**t together anyway?
It's Valentine's Day and Ellie finds herself eating Nutella in the bar stockroom after a no-show date.But single doesn't have to be the loneliest number, does it?She goes back home to her flatshare and weird flatmates.It's ok there's black mould everywhere, right?
With a hangover from hell, she goes to the office job she thought she would have quit by now. Doesn't everyone hate their job? Maybe Ellie isn't following the *official life plan* but perfect is overrated. For fans of Fleabag and Girls, this is a fresh and funny coming-of-age story with a single-girl heroine that everyone will relate to – a modern Carrie Bradshaw meets Bridget Jones.
I thought this book was absolutely hilarious. Definitely a modern day Bridget Jones.
The Curvy Girls Club / Michele Gorman
Meet best friends Pixie, Ellie, Katie and Jane. Fed up with always struggling to lose weight, they start a social club where size doesn't matter. Soon it's the most popular place to be – having fun instead of counting carbs. And the girls suddenly find their lives changing in ways they never imagined. But outside the club, things aren't as rosy, as they struggle with the ups and downs of everyday life.
I seen this book a while back and it looked like one of these easy read chic lits so I bought it. I loved this book so much. I couldn't get into it for the first couple of chapters because there was so many characters but once I did, I couldn't put it down. It's such a heart warming read but with real life issues too! I immediately bought the second book and started reading it as soon as I'd finished the first!
The Curvy Girls Baby Club / Michele Gorman
Ellie is fresh back from her honeymoon and can't wait to share her news with her best friends Katie and Jane. To everyone's surprise, mother-of-two Jane has news of her own… The women are due a day apart, on December 25th and 26th, and Katie can't wait to be an honorary aunt to the babies. But it's hard to keep your sense of humor, not to mention your self-esteem, in the face of hemorrhoids and elasticated waistbands. Add a clingy mother-in-law, a career in cardiac arrest and a sex life that makes Mother Theresa look lusty, and soon their lives are as out of control as their bodies. As the co-founders of The Curvy Girls Club, where loving yourself is the only rule, will the friends be able to practice what they preach?
I loved finding out even more about the characters in the short novella that came after The Curvy Girls Club.
The Girlfriend / Michelle Frances
Laura has it all. A successful career, a long marriage to a rich husband, and a twenty-three year-old son, Daniel, who is kind, handsome, and talented. Then Daniel meets Cherry. Cherry is young, beautiful and smart but she hasn't had the same opportunities as Daniel. And she wants Laura's life. Cherry comes to the family wide-eyed and wants to be welcomed with open arms, but Laura suspects she's not all that she seems.  When tragedy strikes, an unforgiveable lie is told. It is an act of desperation, but the fall-out will change their lives forever.
Not what I expected but it was absolutely fantastic! I was addicted from the start. I began reading it thinking Laura was the villain but oh, how I was wrong! Excellent read.
When the Music's Over / Peter Robinson
When the body of a young girl is found in a remote countryside lane, evidence suggests she was drugged, abused and thrown from a moving van – before being beaten to death.
While DI Annie Cabbot investigates the circumstances in which a 14-year-old could possibly fall victim to such a crime, newly promoted Detective Superintendent Alan Banks must do the same – but the crime Banks is investigating is the coldest of cases. Fifty years ago Linda Palmer was attacked by celebrity entertainer Danny Caxton, yet no investigation ever took place. Now Caxton stands accused at the centre of a historical abuse investigation and it's Banks's first task as superintendent to find out the truth.
As more women step forward with accounts of Caxton's manipulation, Banks must piece together decades-old evidence. With his investigation uncovering things from the past that would rather stay hidden, he will be led down a path even darker than the one he set out to investigate
This is one of the first crime books I have read and oh my, I can tell I am now going to be addicted. I've always loved watching Crime Dramas so I don't know why I have never read them. This was such a gripping read and I am definitely going to be reading more of the DCI Banks series.
This Raging Lights / Estelle Laure
Her dad went crazy. Her mom left town. She has bills to pay and a little sister to look after. Now is not the time for level-headed seventeen-year-old Lucille to fall in love. But love—messy, inconvenient love—is what she's about to experience when she falls for Digby Jones, her best friend's brother.
I absolutely loved this book! I've not found a YA read in so long that I've completely fallen in love with. I loved everything about this read and the characters were all absolutely great! I want to know more though!! Does the girls mum come back?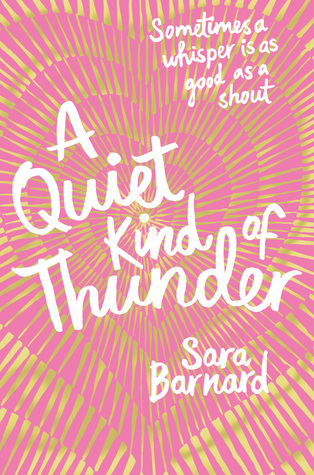 A Quiet Kind of Thunder / Sarah Barnard
Steffi doesn't talk, but she has so much to say.
Rhys can't hear, but he can listen.
Their love isn't a lightning strike, it's the rumbling roll of thunder.
Steffi has been a selective mute for most of her life – she's been silent for so long that she feels completely invisible. But Rhys, the new boy at school, sees her. He's deaf, and her knowledge of basic sign language means that she's assigned to look after him. To Rhys, it doesn't matter that Steffi doesn't talk, and as they find ways to communicate, Steffi finds that she does have a voice, and that she's falling in love with the one person who makes her feel brave enough to use it. 
From the bestselling author of Beautiful Broken Things comes a love story about the times when a whisper is as good as a shout.
I really enjoyed this book and it was so lovely but Steffi kinda annoyed me. I loved Rhys though, he was adorable.
Paper Hearts & Summer Kisses / Carole Matthews
Christie Chapman is a single working mother who spends her days commuting to her secretarial job in London and looking after her teenage son, Finn. It can be tough just getting through the day but Christie has always found comfort in her love of crafting and any spare time she has is spent in her parents' summerhouse working on her beautiful creations. From intricately designed birthday cards to personalised gifts, Christie's flair for the handmade knows no bounds and it's not long before opportunity comes knocking. All of a sudden Christie sees a different future for her and Finn – one full of hope and possibility, and if the handsome Max Alexander is to be believed, one full of love too. It's all there for the taking.And then, all of sudden, Christie's world is turned upside down.Christie knows that something has to give, but what will she choose? Will she give up her dreams and the chance of real love? What price will she pay for doing the right thing? Can Christie find her happy ending?
I've been a fan of Carole Matthews since reading The Chocolate Lover's Diet. Paper Hearts & Summer Kisses was a fantastic and heartwarming read. At some bits I had to push myself on to continue reading but it was definitely worth it. Such a lovely book.
Blood Sisters / Jane Corry
Three little girls set off to school one sunny May morning. 
Within an hour, one of them is dead. Fifteen years later, Alison and Kitty are living separate lives. Kitty lives in a care home. She can't speak, and she has no memory of the accident that put her here, or her life before it. Art teacher Alison looks fine on the surface. But the surface is a lie. When a job in a prison comes up she decides to take it – this is her chance to finally make things right. But someone is watching Kitty and Alison.
Someone who wants revenge for what happened that day. 
And only another life will do.
This book was honestly incredible! The only downfall was that it took until 25% into it until things actually started happening. But then I guess that also represents the way Kitty's memory worked. Honestly, such an amazing plot.
What have you been reading this month? Leave me recommendations please!
Much love,