I didn't read as much this month but my, the ones I did were great! I started reading Harry Potter and the Goblet of Fire which obviously is amazing but it's not practical carrying it about with me so I am only about a quarter of my way through!
The Cuckoo's Calling (Cormoran Strike #1) / Robert Galbraith
When a troubled model falls to her death from a snow-covered Mayfair balcony, it is assumed that she has committed suicide. However, her brother has his doubts, and calls in private investigator Cormoran Strike to look into the case. A war veteran, wounded both physically and psychologically, Strike's life is in disarray. The case gives him a financial lifeline, but it comes at a personal cost: the more he delves into the young model's complex world, the darker things get – and the closer he gets to terrible danger.
I had no idea what this was going to be like as I just couldn't imagine JK Rowling writing about crime. Man oh man. That woman's talents are limitless. I was absolutely hooked from start to finish. I fell in love with Strike and cannot wait to read the next one! The plot was amazing and I just couldn't believe how well written it was.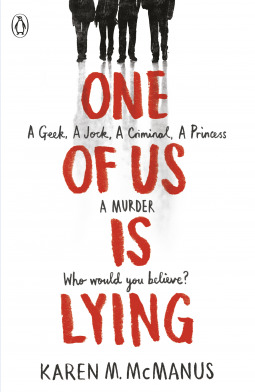 One of Us Is Lying / Karen M McManus
Yale hopeful Bronwyn has never publicly broken a rule. Sports star Cooper only knows what he's doing in the baseball diamond. Bad body Nate is one misstep away from a life of crime. Prom queen Addy is holding together the cracks in her perfect life.
And outsider Simon, creator of the notorious gossip app at Bayview High, won't ever talk about any of them again. He dies 24 hours before he could post their deepest secrets online. Investigators conclude it's no accident. All of them are suspects. Everyone has secrets, right? What really matters is how far you'll go to protect them.
This read was absolutely amazing start to finish. I had a suspicion of who it was from about half way through and it turned out I had actually guessed correctly which never happens! I love all the characters in this and they all had completely different backgrounds!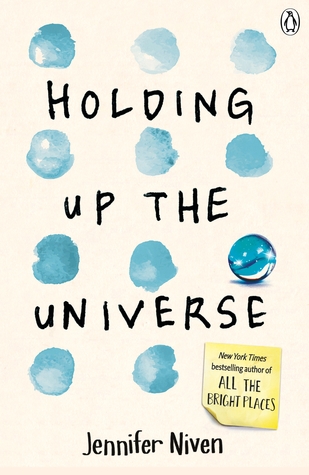 Holding Up The Universe / Jennifer Niven
Everyone thinks they know Libby Strout, the girl once dubbed 'America's Fattest Teen'. But no one's taken the time to look past her weight to get to see who she really is. Since her mum's death, she's been picking up the pieces in the privacy of her home, dealing with her heartbroken father and her own grief. Now, Libby's ready: for high school, for new friends, for love, and for EVERY POSSIBILITY LIFE HAS TO OFFER. I know the part I want to play here at MVB High. I want to be the girl who can do anything.
Everyone thinks they know Jack Masselin too. Yes, he's got swagger, but he's also mastered the art of fitting in. What no one knows is that Jack has a secret: he can't recognize faces. Even his own brothers are strangers to him. He's the guy who can re-engineer and rebuild anything, but he can't understand what's going on with the inner workings of his own brain. So he tells himself to play it cool: Be charming. Be hilarious. Don't get too close to anyone.Until he meets Libby. When the two get tangled up in a cruel high school game which lands them in group counseling, Libby and Jack are both angry, and then surprised. Because the more time they spend together, the less alone they feel. Because sometimes when you meet someone, it changes the world – theirs and yours. 
Damn, she knows how to write about loss. First 'All the Bright Places' and now this? SO much emotion. I absolutely loved Libby so much. She was such a great character. The plot was great and Jack's story was also great to read.
Scrappy Little Nobody / Anna Kendrick
Even before she made a name for herself on the silver screen starring in films like Pitch Perfect, Up in the Air, Twilight, and Into the Woods, Anna Kendrick was unusually small, weird, and "10 percent defiant." At the ripe age of thirteen, she had already resolved to "keep the crazy inside my head where it belonged. Forever. But here's the thing about crazy: It. Wants. Out." In Scrappy Little Nobody, she invites readers inside her brain, sharing extraordinary and charmingly ordinary stories with candor and winningly wry observations. With her razor-sharp wit, Anna recounts the absurdities she's experienced on her way to and from the heart of pop culture as only she can—from her unusual path to the performing arts (Vanilla Ice and baggy neon pants may have played a role) to her double life as a middle-school student who also starred on Broadway to her initial "dating experiments" (including only liking boys who didn't like her back) to reviewing a binder full of butt doubles to her struggle to live like an adult woman instead of a perpetual "man-child."
Anyone who knows me will know how much I love Pitch Perfect. That's when I first started to love Anna Kendrick! It was so interesting reading about her life and the struggles she had whilst growing up trying to get her career going. I was a little disappointed how little there was about her experience when filming Pitch Perfect. I enjoyed this nonetheless though as she is hilarious!
I See You / Clare Mackintosh
When Zoe Walker sees her photo in the classifieds section of a London newspaper, she is determined to find out why it's there. There's no explanation: just a grainy image, a website address and a phone number. She takes it home to her family, who are convinced it's just someone who looks like Zoe. But the next day the advert shows a photo of a different woman, and another the day after that. Is it a mistake? A coincidence? Or is someone keeping track of every move they make . . .
Absolutely phenomenal read. I was kept on edge the whole way through. The suspense is unreal. I absolutely loved this book and I am definitely going to be purchasing Claire Mackintosh's I Let You Go next!
Have you got any recommendations for me?
Much love,