Another month, another list of amazing stories to get lost in. Some of these books are the best I've read in a long time so I'd definitely recommend adding them to your TBR list.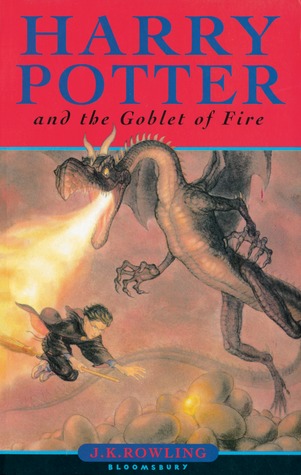 Harry Potter and the Goblet of Fire / JK Rowling
The summer holidays are dragging on and Harry Potter can't wait for the start of the school year. It is his fourth year at Hogwarts School of Witchcraft and Wizardry and there are spells to be learnt and (unluckily) Potions and Divination lessons to be attended. But Harry can't know that the atmosphere is darkening around him, and his worst enemy is preparing a fate that it seems will be inescapable …With characteristic wit, fast-paced humour and marvellous emotional depth, J.K. Rowling has proved herself yet again to be a master story-teller.
I am loving reading the Harry Potter series. It just keeps getting better and better. Of course I have seen all the films so I know what happens but reading the books gives you so much more description and information about the characters and their adventures.
Am I Normal Yet? / Holly Bourne
All Evie wants is to be normal. She's almost off her meds and at a new college where no one knows her as the girl-who-went-crazy. She's even going to parties and making friends. There's only one thing left to tick off her list…But relationships are messy – especially relationships with teenage guys. They can make any girl feel like they're going mad. And if Evie can't even tell her new friends Amber and Lottie the truth about herself, how will she cope when she falls in love?
Absolutely amazing read. I was recommended this as I love YA books and it did not disappoint at all. It covers the themes of mental health and feminism which are two extremely relevant themes in real life so of course it was fantastic. I loved reading about Evie's journey and her experience with mental health illnesses.
The Not So Perfect Mum / Kerry Fisher
Maia is a cleaner for ladies who lunch. With mops and buckets in tow, she spends her days dashing from house to house cleaning up after them, as they rush from one exhausting Pilates class to the next. But an unusual inheritance catapults her and her children into the very exclusive world of Stirling Hall School – a place where no child can survive without organic apricots and no woman goes a week without a manicure. As Maia and her children, Bronte and Harley, try to settle into their new life, Maia is inadvertently drawn to the one man who can help her family fit in. But is his interest in her purely professional? And will it win her any favours at the school gate?
This is such a lovely read. Kerry Fisher has a talent for creating raw but hilarious content. Such a good plot and such an easy read. I loved how her inheritance tied in with her client and how it all turned out.
How Hard Can Love Be? / Holly Bourne
Amber, Evie and Lottie: three girls facing down tough issues with the combined powers of friendship, feminism and cheesy snacks. Both hilarious and heart-rending, this is Amber's story of how painful – and exhilarating – love can be, following on from Evie's story in Am I Normal Yet? All Amber wants is a little bit of love. Her mum has never been the caring type, even before she moved to California, got remarried and had a personality transplant. But Amber's hoping that spending the summer with her can change all that. And then there's prom king Kyle, the guy all the girls want. Can he really be interested in anti-cheerleader Amber? Even with best friends Evie and Lottie's advice, there's no escaping the fact: love is hard.
The second part of this series is just as good as the first! I loved how yo get to read about Amber's story and you know what her friends are like from the last book. This was a great read and I can't wait to read the 3rd part.
The Year of Saying Yes / Hannah Doyle
Dear Readers, I hold my hands up: I'm stuck in a rut. For three years and counting I've been hopelessly in love with the same guy – and the closest we've ever got is a drunken arse grab (NB: this doesn't count). My favourite hobby is googling cats for spinsters and I'm sick of my shoestring salary that barely pays for my shoebox flat. I need a head-to-toe life makeover. Enter my 'Year of Saying Yes', which is where you come in. To help me sort out my sorry life, I need you to #DareIzzy. For the next 12 months I'll be saying 'yes' to your challenges, no matter how wild, adventurous or plain nuts they are. 'No' is not an option! Here goes… Wish me luck! I'm going to need it. Love, Izzy x
Honestly, this is one of the best books I have read this year. I read the blurb on Amazon and thought it would be a typical unrealistic 'change your life' book so dismissed it. Then my sister told me I had to read it so I did and I have never felt so bad for quickly judging a book. I absolutely loved Izzy and this book makes you want to implement changes in your own life.
What have you been reading recently?
Much love,